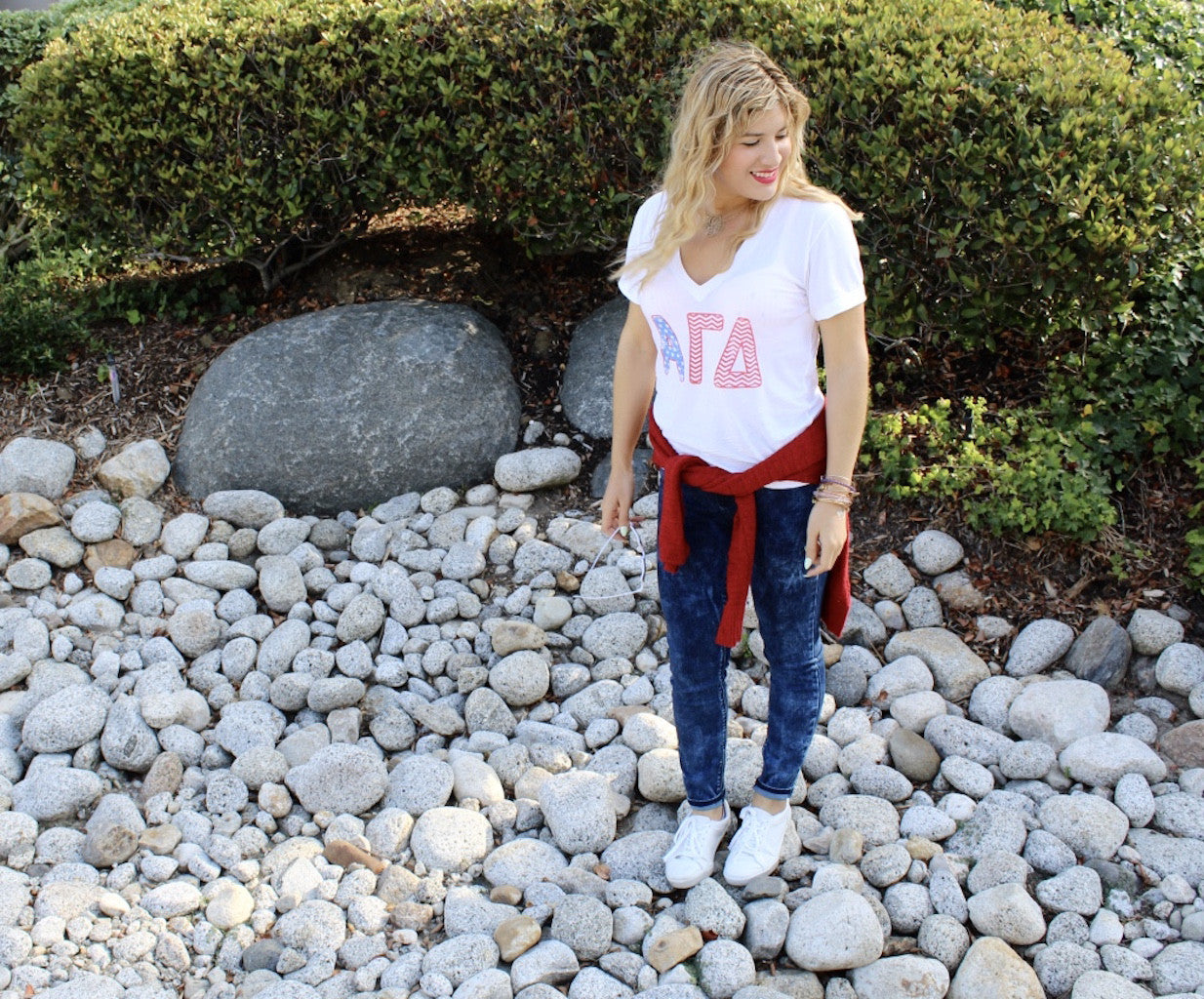 Fall Look of The Day: Alpha Gam OOTD
Ahh it's that time again, all the UC's are back to school. It's the official first day back and the first day of Fall. Even though it's still a little bit hot in Southern California we can attempt to embrace Fall. ;)  
En Español
Al fin la temporada cuando todays las UC's lla regresan a clase. No solo es el primer día de clases pero también el primer día the Otoño. Esta toda via un poco caliente en Sureste de California pero podemos atentar introducir la temporada.  
I got caught running around in some Alpha Gam attire the other day. Most of you already know I was part of Alpha Gamma Delta Sorority at UCLA. If I'm not mistaken this is the last two days of formal recruitment, and I'm too excited of what the girls will accomplish this year. 
Some comfortable jeans and classic tennis shoes will make walking around campus much more pleasant. You think you won't do a lot of walking and soon you find yourself walking back the dorms or sorority row blistering toes and all. haha I have been there and done that. My favorite shoes form campus were. 
2. Sanuk Shoes, any style, whether it was a sandal or flats
​​​
Another favorite was matching a a color from your sorority Tee with a lipstick. In this case the shirt had red, So I went with red. Obviously theres a lot of different colors out there, have fun with it this is where your personality shows! <3
​​​
I was feeling fall! Wanted the red to pop out. I was one of those that got cold in class ALL the time. Can we turn down the AC just a little bit? haha Red cardigan around the waist and you're ready to go. 
​​​
You don't have to put too much effort into this look. The whole point is to feel comfortable. Besides its acceptable to look cute for week 1 coming into week 4 we go to class in pajamas. lol 
Have a great day back in class loves & if you are alumnae like me let's just have fun wearing our letters out from time to time. <3
Thank you for reading! If you enjoyed this please make sure to leave a comment, subscribe, and follow me! 
En Español
 El otro día me encontraron con mi atuendo de Alpha Gam. Todos de ustedes ala saben que pertenecí a la organization the Alpha Gamma Delta en UCLA. Si no me equivoco hoy o mañana sera el ultimo día de reclutamiento. Estoy muy emocionada de ver todos los logros de las muchachas.  
A Para poder caminar en la comunidad de la universidad les recomiendo que usen zapatos cómodos. En la foto pueden ver que me puse zapatos planos en color blanco. lucen muy bonito y mantienen mis pies cómodos. Aunque pienses que no vas a caminar mucho, tenlo por aviso que siempre caminas mas de lo que piensas. Mis favoritos para caminar en la comunidad eran: 
1. Zapatos Planos en color Blanco
3. Sandalias de la marca Rainbow
A  otro favorito es usar un color de labial que tenga tu camiseta. Es algo muy fácil y divertido de hacer. Cada persona escote maquillaje diferente pero es la manera perfecta de demostrar tu personalidad. <3
Me encuentro lista para Otoño con mi suéter en color rojo. Quería combinar el color de labial y el color de la camiseta. No esta tan frío afuera pero algunas clases se ponen muy frías. De esta forma estamos preparados. 
No tiene que tratar mucho para recrear este look. Es fácil de recrear porque el punto es que la ropa quede comoda. Al fin los primeros días de la escuela los vestimos muy bien y a finales buscamos cualquier cosa que ponerlos. jaja
Tengan un buen día de regreso a clase! Si ella son graduados como yo pues diviertansen combinando su vestuario. 
Gracias por leer, Porfavor de mantenerse conectado con migo! muah!
XX, 
Caryn