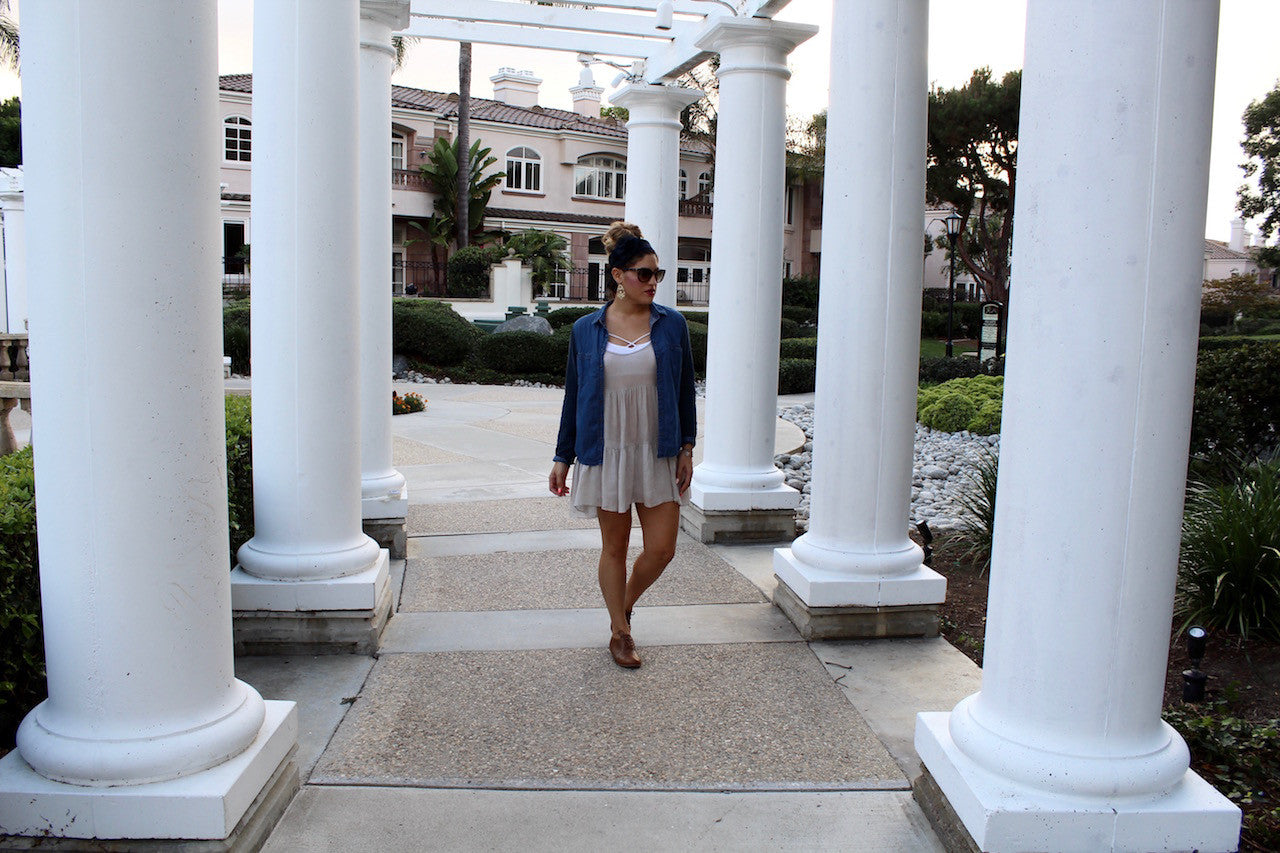 Everything you need for November
What I'm Wearing.
 Top: Click here 
​Denim button up: Similar Here
​oxford flats: Click here
​bandeau bra: Similar Here
headband: Similar Here ​
I actually used a belt I had in my closet and wrapped it around my head. Anything similar can work 
​Lipstick: Mac Lipstick Plumful
November Checklist
​1. Darker Nail color: It is ok to let go of the bright colors. I myself recently painted my nails a dark purple. Right now, I'm crazy over this Orly Polish. The kind ladies at the nail salon did a dark plum color as a first coat and ended it with this one.  For those that know me and for those that just stopped by to read the blog. I can never get enough of the bright colors. I am a summer baby what can I say. Hot pink, orange, and neon yellow here I come. For the first time in a while I am so excited to try all these exciting darker fall colors. Oh and if you haven't already noticed I'm obsessed with Orly nail polish. They stay on longer and the brush makes the application much easier. 
2. Put in those low lights in your hair. I usually let my roots get a little longer during the fall and rock the ombre look. I tone my roots myself using Clairol 7AA or 6 AA from sally's. if not I have used colored dye like this one and works just fine too. Although, if you are not comfortable dying your own hair I suggest heading to the salon. I grew up with my grandmother, whom is a cosmetologist, so I have a little bit of exposure with hair dye. I am little hesitant dying my blonde hair dark since it goes through so much process in the summer to get it to a lighter tone. 
3. Start planning your outfit as well as your families for thanksgiving. (if you dress up) and if you don't I don't blame you it's football season! ;) Time creeps up on you, so it is important to think about these things beforehand. My family Likes to have a candlelight dinner so semi-formal is a must. I usually like pair a romper, dress, or skirt with nylons and some heels. I won't know what I am in the mood for until about mid November for sure. 
4. Enjoy the gorgeous fall weather. I love to watch the sun go down at the park and take in the beautiful colors of the season. 
5. Buy a scarf: this is the time to indulge and invest in one. I usually get neutral colors or soft tones because I love to add a pop of color on my lips. Also ruffles and fringe details are a must. haha One of the most exciting things for me about fall outfits are all the scarves you get to wear. 
​
6. Fringe boots: Any excuse to keep wearing out summer boho heels. Fringe is definitely in this fall. From knee high to ankle boots.
7. Army Green tones: Keep the army green tones coming. From vests, tops, pants, or jackets. 
'​Til next Tuesday!
​XOXO,
Caryn