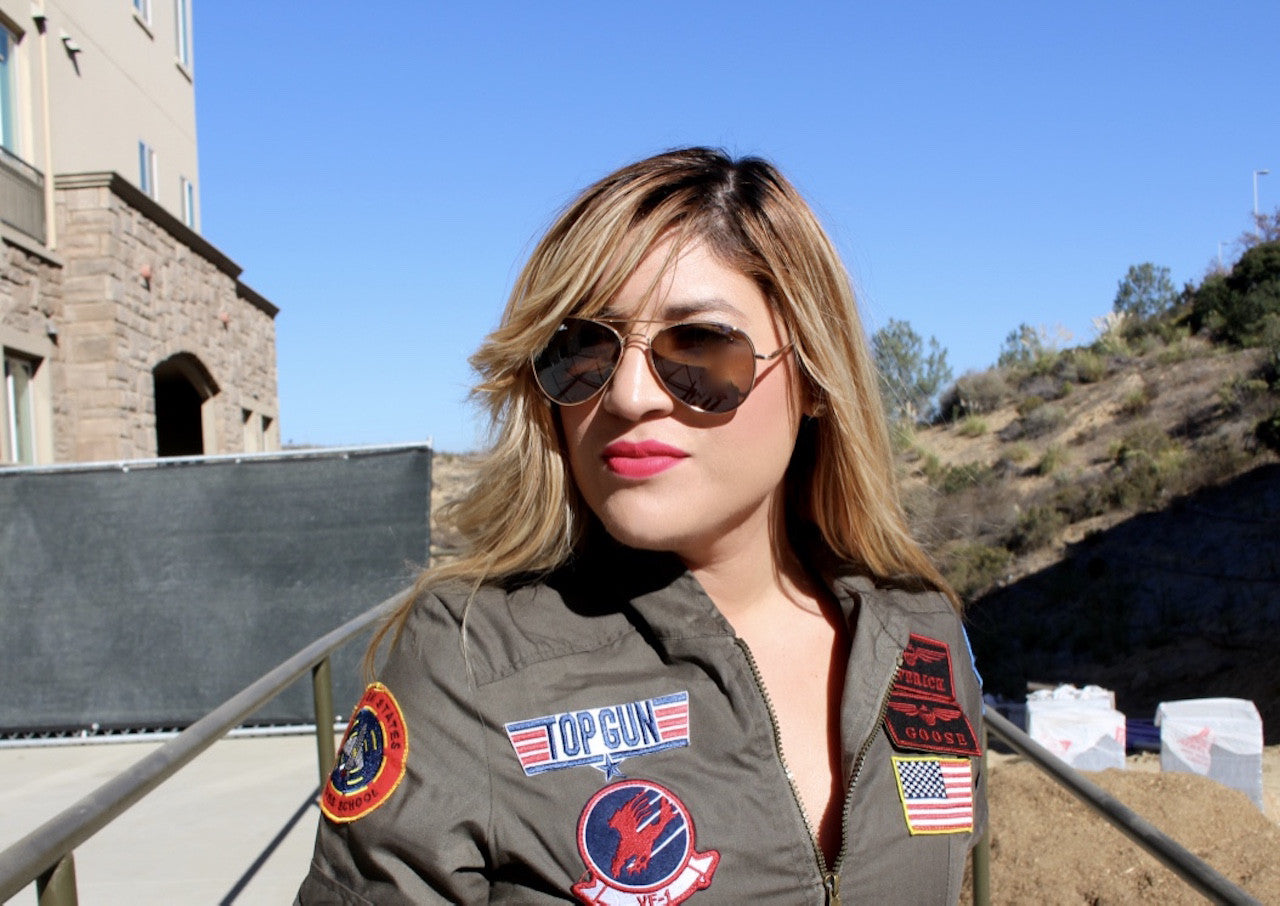 Fast & Easy Costumes on a Budget: MERMAID DIY | Military Outfit
Halloween is approaching and so many of us have procrastinated. What Can you do that quick, easy, stylish, and on a budget! I have two good ideas keep on reading. 
En Español
El día de Halloween se acerca y muchos de nosotros no tenemos nuestro disfraz. Que podemos hacer? Les doy dos opciones. Siguen leyendo. 
Look 1 : Top Gun Military Girl
1. Visit a Thrift Store | Visiten una Tienda de segunda 
Go visit a thrift store. They have a ton of food finds and really nice costumes. You have to have an open mind. I scored this Top Gun Military outfit for $9.99 sunglasses and all. 
I have found some of this exact costume on eBay for you.
If you need another size try eBay or amazon. 
2. Use Finds from your own closet or Ask a Friend 
Ok so you have the costume but what can you do about the accessories? Check your closet first or ask a friend! I really wanted some green boots to go with this outfit but I had some black ones in my closet so I gave those a go. The fun part of this costume, the shoes can be any color! boots or even regular stilettos. 
What was my favorite part of this look? & Funny story.
The fun part about this costume is that the make up and hair was super easy to work with. I was able to use make up from my vanity and the biggest statement is the lipstick.  Of course im using my mac favorite relentless red lippie. 
So I chose a spot to shoot this look somewhere I thought would be empty. To my surprise it was and when I started posing for photos I had a line of construction workers staring at me. Yea you would think its flattering but so not the case, made posing for photos so HARD. and inside I just wanted to run away. haha When I got in the car I started laughing so hard. It happens any blogger understands the struggle. The more photos you take the more you get over it, I suppose. :) 
​​​
1. Visiten una Tienda de segunda
Visiten una tienda de segunda. Para este tiempo tienen muchas opciones para ustedes. Les recomiendo que tengan una mente abierta. No saben lo que van a encontrar. Yo encontré este disfraz de una chica de militar de la película Top Gun por solo $9.99. El disfraz hast tenia los lentes incluidos. 
Aqui encontre uno en talla chica. 
2. Usen cosas de su closet o preguntenle a un amigo
Bueno ya tienen su disfraz pero que hacen de sus accesorios? Primero hay ver lo que tenemos en casa. Yo quería combinar este disfraz con botas verdes pero al ultimo me salió mas barato un par color negras que tenia guardadas. El disfraz no ocupa botas también se podia combinar con zapatillas en cualquier color. Si conminaría zapatillas tratara de usar unas amarillas, azules, o rojas.  
Si esta no es su talla traten eBay o amazon. 
 3. La cosa mas favorita  de este disfraz fue
La cosa mas favorita  de este disfraz fue que nadamos me costo diez collares y el maquillaje y peinado fue muy fácil. Puedo estar en el trabajo por la mañana y salir con el mismo maquillaje en la tarde. Claro que tuve que usar mi labial favorito de mac- relentessly red.  
Ahora para la historia chistosa, en veces me cuesta mucho tomarme fotos enfrente de la gente. Pensé que escogí un lugar solo. Da la casualidad que cuando empece a tomar fotos tenia una linea de trabajadores viéndome. ya se pueden imaginar la rizas que me pego. no se si fue de nervios pero termine lo mas pronto posible y cuando regrese al carro no pude parar de reír. Yo creo que poco a poco uno se acostumbra a las fotos, pero por lo pronto no vuelvo a salir al publico con mi disfraz en un día que no es halloween. jaja 
Look 2 : Mermaid (Sea Queen) | Sirena (Reina del Mar) 
1. use an old formal dress (Prom dress) | usen un vestido formal de su closet
Yes!! I used an old dress from my closet. This dress was actually from my Junior high school prom! I can't believe I had it stored for so long. Check your closet see if you have any dresses or key pieces you can use to create a costume than work backwards to get accessories together. If you don't have any formal dresses check a local thrift store, with all the luck in the world you might find a lucky winner. 
2. Make your own accessories | Hagan sus propios accesorios a mano
Of course making your own mermaid crown is appropriate. Also Super easy! This is hard to find on the shelves of the store so its a perfect opportunity to get creative and show off your personality. However, if you want to just buy one check local halloween stores. 
You can find full video on how I made mine Here.  
3.Make up & Glitter | Diviertanse con el Maquillaje
Have fun with make the make up! I used a ton of glitter on my face and all the frosty blushes and eyeshadows I could find. For the glitter I used gorilla gel and loose glitter from local crafts store. 
Eye make up: I used smashbox cosmetics (celestial) (cosmic)
Blush: Mac (full of Joy) + Elf cosmetics (pink passion)
Lipstick:  Mac Lipstick Mixed candy yum yum and myth.
​​​
What was my favorite part of this look?
I love crafting and making things. If you follow along you know this about me. My favorite part was making the crown and playing with glitter on my face. You never know how your make up is going to come out on halloween so this was the perfect opportunity to practice. :)
I hope you guys enjoyed this post. If you did, please leave me a comment and let me know. 
Make sure to SUBSCRIBE so you can get the blog post to your email in advance. Follow me on Instagram  & Facebook for daily photos. Much love! 
1. usen un vestido formal de su closet
Usen un vestido forma que tengan en su closet. Este yo le tenia guardado desde la prepa. no puedo creer que lo pude sacar otra vez. Vean que tiene en su closet y dense ideas de disfraz. Ya después se dan cuenta cuales accesorios van a ocupar. Si no tienen nada pregunte a una amiga or visiten una segunda. Vestidos largos siempre tienen. 
2. Hagan sus propios accesorios a mano
El Claro que se puede hacer una corona de sirena. Fue muy divertido y super fácil. Este es la oportunidad perfecta para que hagan algo distinto que sea específicamente para su personalidad.  
Aqui puden encontrar el video para ver como hize mi corona.
3. Diviertanse con el Maquillaje
Diviértanse con el maquillaje. Yo use muchos brillantes en el cabello y la cara. use el maquillaje mas blanco y escarchado que pude encontrar. Para los brillantes use gorila gel y cualquier brillantes sueltos de la tienda. 
Para los ojo: Smashbox cosmetics (celestial) (cosmic)
Rubor: Mac (full of Joy) + Elf cosmetics (pink passion)
Lipstick: Combien dos. Mac Lipstick Mixed candy yum yum and myth. 
 Lo Mas favorito de este estilo fue..
Claro que a mi me encanta crear cosas con mis manos. Lo mas favorito para mi due crear la corona y jugar con brillantes en mi cara.  
Espero que disfrutaron de la información. Aseguren de dejarme un comentario. <3 y de suscribir para que puedan recibir el blog por su correo electrónico antes de todos los demás. Síganme en Instagram y Facebook para ver fotos diarias. Con mucho amor. 
xx, 
Caryn ​