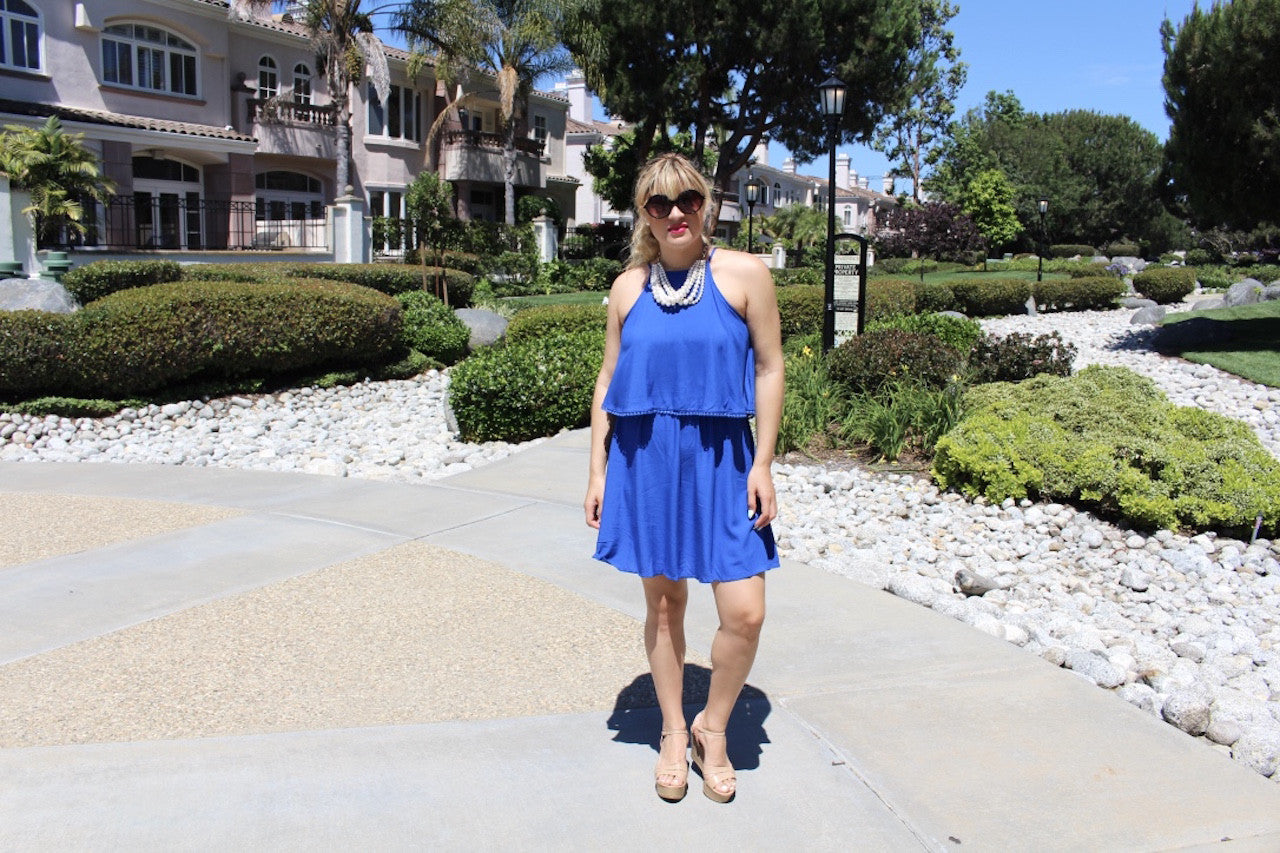 4th of July Glam: Red, White, & Blue
Ever wonder how you can stay fresh and dress up for the 4th of July? Follow some easy  steps. 
1. Get a comfortable flowy dress. (choose your color!) red, white or blue? I chose a blue one from target. So comfortable and I can use it after for dinner events or more of a semi casual event. It's a win win. 
2. Get a statement necklace. Pair your favorite flowy find with the right necklace. I chose to layer pearls since I had one at home and the dress was blue. Similar one here. If you choose a white dress you can have more fun with your necklace. 
3. Get some wedges. If you have been dying to pull out your wedges, now is the perfect excuse. Wedges give you the height and comfort. Make sure you choose your comfortable pair. I'm all about comfort, if you haven't already noticed. 
4. Throw on a pop of color on the lips. 4th of July Calls for red! 
Make sure you show me your styles and looks on instagram @QueenBeeFashionBlog Or comment below if you have any favorite tips that you want to share. <3 
Dress: Target $24.99
Necklace: Similar one $42
Shoes: Similar 
Lipstick: Mac Relentlessly Red Lipstick
xx, 
Caryn 
​​​
Les tango cuatro pasos que pueden seguir para que se mantengan frescos y con estilo este 4 de Julio. 
1. Encuentren un vestido que este fluido. Yo encontré el mío en target. Me Decidi por el, porque lo puedo usar de muchas otras formas después. 
2. Escojan un collar con detalle. Combinen su vestido con el color apropiado para ustedes. Yo decidí escoger perlas porque es lo que tenia en casa. 
3. Agarren zapatos de plataforma. Les va a dar estatura a la misma vez que comodidad. 
4. Usen un collar en los labios. Claro que para el 4 de julio, el color rojo se ve divino. 
Aseguren de mandarme sus fotos en instagram @queenBeefashionblog o comenten abajo con ideas y consejos que quieran compartir. 
xx, Caryn