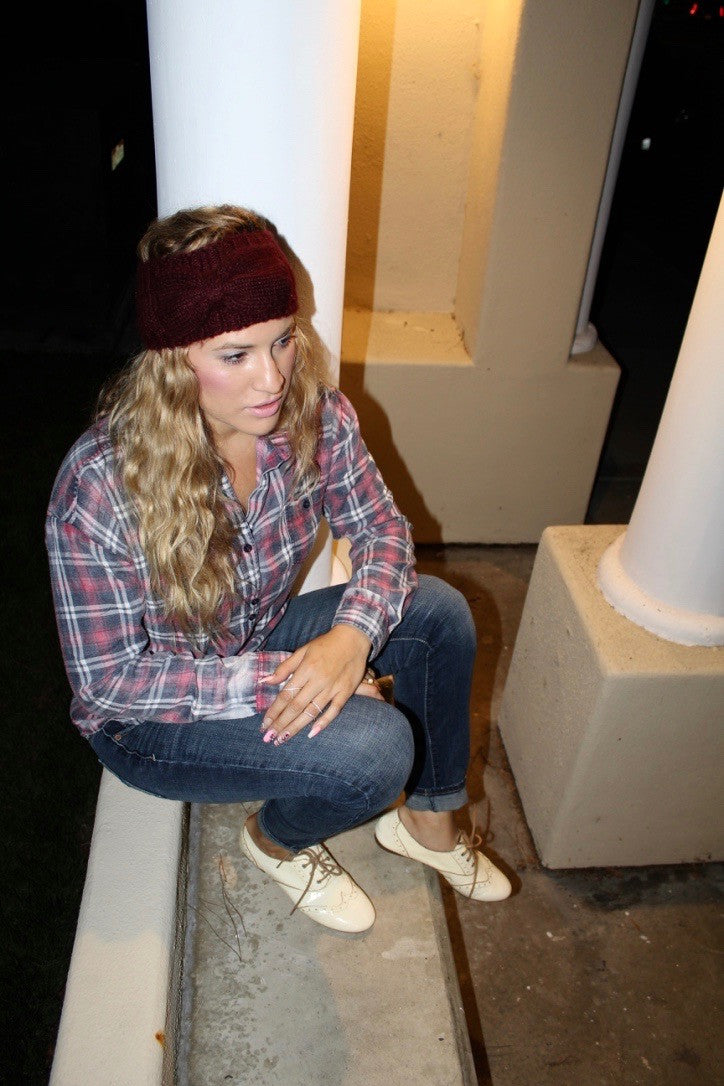 Stylish Ways to Stay Warm During the Winter?
Stylist Ways To Stay Warm During The Winter?
​In southern california it feels that it is appropriate to wear a large down feather jacket as soon as it is 60 degrees outside. True story guys. We just feel it so inevitably cold. I myself live in Ugg boots all of fall and winter long. I try to wear my other shoes but they don't seem to make the cut. Last week I was struggling to go out and keep myself warm without looking like a storm just hit. I shared some of my favorite ways to stay warm and more photos down below. 
What I'm Wearing?
​Shirt/Camiseta: Similar Here & Available to purchase at our eBay store.
Jeans/Pantalones: Here 
Shoes/Zapatos: Similar Here
Headband/banda para la cabeza: Click Here
X Ring/Anillo: Click Here
Lipstick/labial: Mac Lipstick- Saint Germain
​​
Stylist Ways To Stay Warm During The Winter?
​1. The knitted headband: Ok why do I love this look? besides the fact I can never get enough headbands. I appreciate how warm the keep you without having to wear a beanie or hat.  Also, Because of the size it makes it easy to carry in your purse and or backpack.The weather can sometimes be a little crazy so it's easy to take it out or put it away. Another plus is that it does not frizz up your hair! I purchases the one above from forever 21 for $7.00 dollars. I love pieces with bows.
2. Vests: Sometimes you don't need very much to stay warm but to cover your chest. I love vest look because it gives you an add of chicness. Can be paired with long sleeves or short sleeve dresses. During the cold season I would stay away from sleeveless shirts with these because depending on the sleeve of the vest a tank top can clash with it. 
​3. Scarves: The perfect seasonal accessory. keeps your chest warm and sometimes all you need to give you the extra warmth you need. 
4. Fur Stole: Just in time for the holidays we need that jacket or coat to throw on. The fur stoles are my favorite because it allows for your dress or cocktail attire to be seen. Every winter I find myself wearing one of these. Also Perfect go to for the winter wedding parties. These are some of the pricier winter pieces to invest in, but they last a long time. 
5. Blanket Scarf/Cape: These are the newest winter trend! So cozy warm and heck truth be told best invention ever. You finally can carry your blanket anywhere with you and stay warm. Recently I went to drive in and I happened to be wearing one. I was so thankful it was enough to keep me cozy during the whole movie. It can be the perfect outdoors carry on and if it happens to be raining allows you to cover your purse. We've all been there. haha Some depending on the material you can fold neatly in your purse (depending on the size of it). My favorite is the white and gray look because I love wearing white in the winter. 
xoxo, 
​Caryn