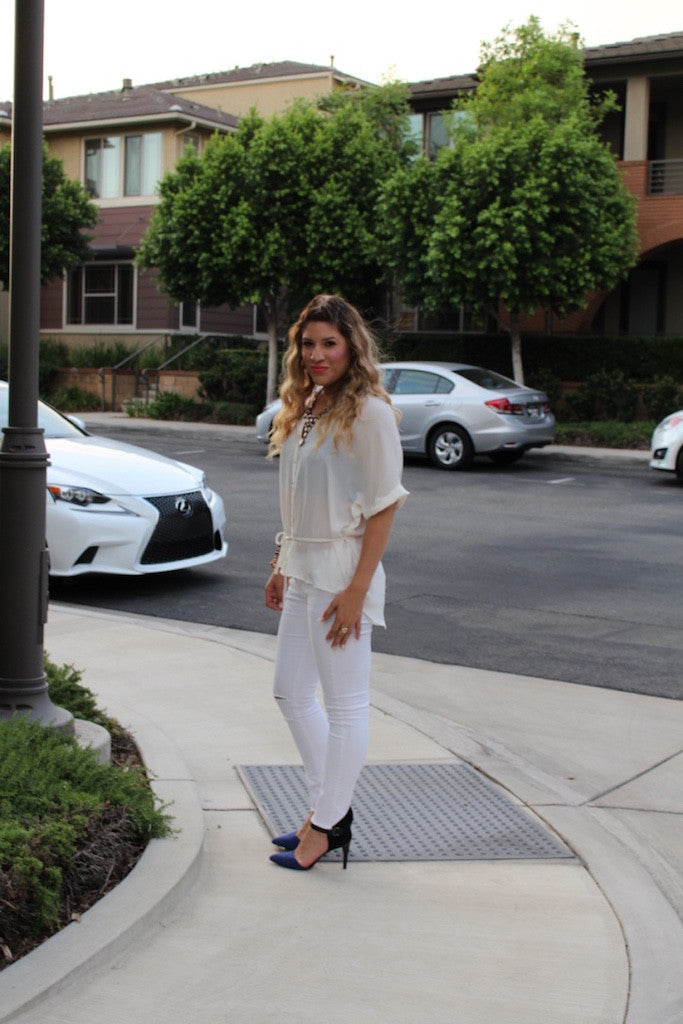 So Much White Clothes But What To Do with it?
It won't be long before you realize my obsession for white clothes goes far beyond limits. I buy white clothes on a weekly basis and only wear on special occasions. Needless to say I have a lot of white in my closet. Some get worn a lot while others do not. haha So I've realized that all you need is a few essentials pieces in your closet. My top favorites are basic white/beige pieces, such as, a blouse, a cardigan, a dress, a skirt, and jeans. It is essential to find pieces that you feel comfortable in. The great thing about white clothes is that it is easy to match. It also adds a sense of elegance to an outfit by looking polished. 
Don't be afraid to combine different shades of white. Keep in mind the material of the white clothes does matter. I decided to match white denim distress jeans with a beige blouse. If you're looking for a wide variety of white/nude blouses I recommend Ann Taylor. They have a great variety depending on the season. Their prices are affordable for the quality you are getting. Not to mention they are quite form fitting and flattering. Another benefit of wearing neutrals is that you can play with the lip color and accessories. I was going out to a fancy dinner so I decided to pair my outfit with blue and black colored heels. Black and white together=pure elegance. The statement necklace in the photo was a gift passed on by my mother. It has been in the family for a while so there is not an exact retailer. I added a few statement pieces that would work as well. Check them out below. 
xx, 
Caryn