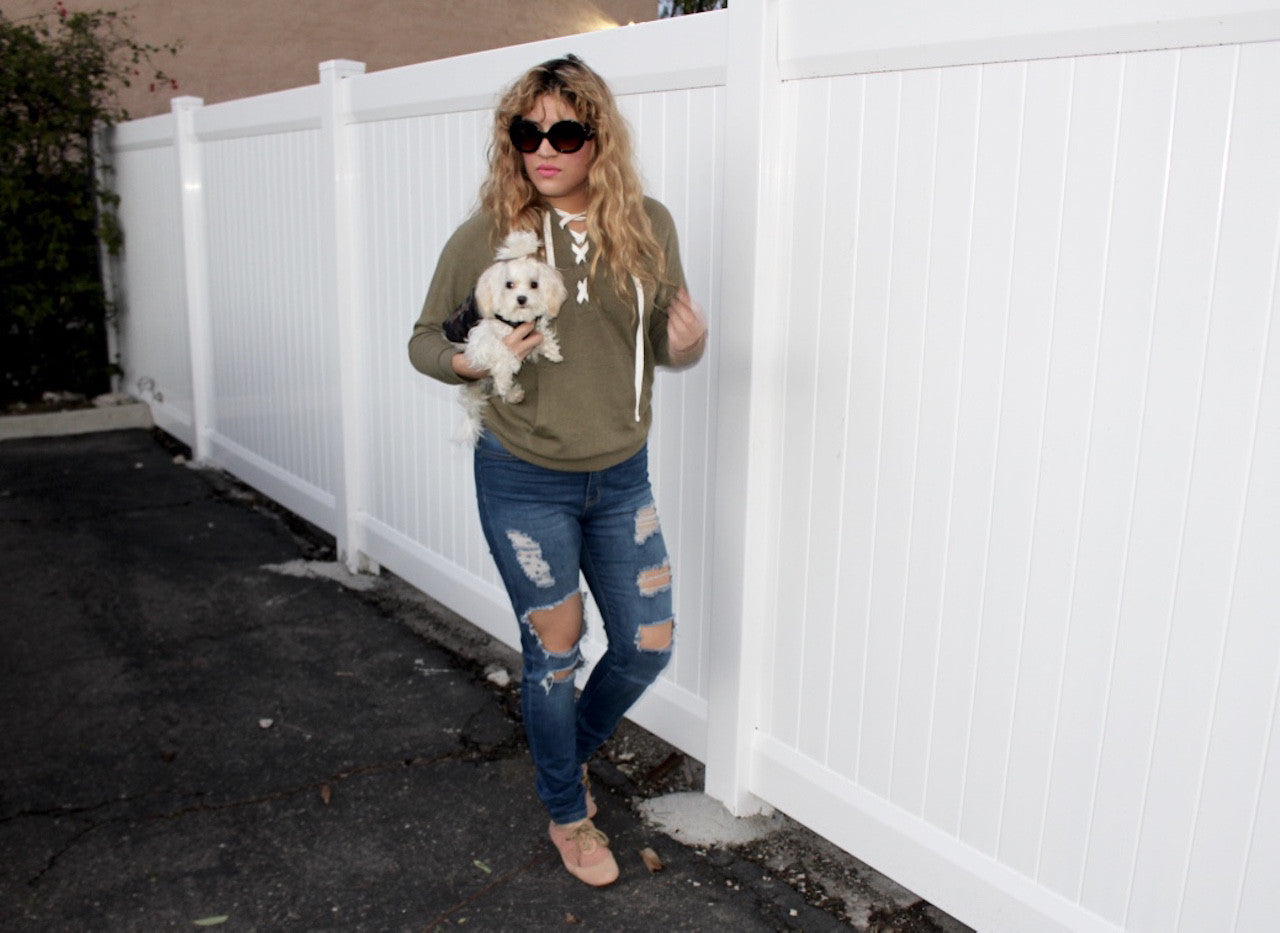 Matching Clothes With Your Pup | Dog Moms
Oh yes it's a thing! I love to play dress up with Prince. He loves it too! He runs to the clothes when he sees me take it out. I think he has learned it means going out. I usually take him with me everywhere. So What is it like to Play dress up with Prince? Is it weird? Why do People do it? 
En Español
Combinando tu vestuario con tu perrito se a convertido en algo muy divertido y 
común de hacer. Principe, mi perrito maltipoo, le encanta vestirse! Yo creo que a aprendido que cuando saco la ropa y le pongo algo nuevo quiere decir que vamos a salir. A si que vamos a hablar de como es la situación con vestir a Principe? Es un poco raro? Y porque lo hace la gente? 
DETAILS (Detalles) :  MAC LIPSTICK(LITTLE BUDDHA) 
DETAILS (Detalles) : PANTS (SIMILAR) mine are from fashion district 
DETAILS (Detalles) : PANTS (SIMILAR) mine are from fashion district | LACE UP SWEATER(SIMILAR UNDER $20) | SHOES (GET THE LOOK) mine are vintage | MAC LIPSTICK(LITTLE BUDDHA) 
1. What is it like?
It's super fun! He's my dog child he thinks he is part human haha It all started when he was 5 months old, since he was so small he would always be shivering. Let's face it, it is a cold cold world sometimes haha It was really hard to find clothes for him when he was smaller because nothing would fit him not even the XS. I always had him wrapped in blanket. In the next few months I think he got used to the clothes. We get stopped everywhere for fashion advice. I have met so many wonderful dog lovers. Its a whole other world. I have a lot of fun choosing outfits for Prince and myself. I also am the type of person where I like everything to match perfectly. Since Prince is always in my purse (where he likes to be) it's nice to have him coordinated in the same colors. Win win for both of us. 
2. Is it weird?
Oh boy, Ok so you will come across the occasional person who thinks you are crazy, you can usually tell my the glares they give you. haha Just keep on smiling and go on your day. You will meet tons of other dog lovers who will love to know where you got your dogs outfit. I think it's a matter of perspective. I don't think it's weird, I obviously think it is adorable. haha My brother has a english golden retriever and I'm always trying to get some clothes on him. haha My bother just gives me stares but I will get him to do it. Last Christmas, he put a Santa suit on his dog, I was so proud go him. Basically if you love to dress up your furry child why not! 
3. Why Do People do It? 
Ok we will get the people who object on putting clothes on dogs. They find anything negative they can say about it. It might be that their own dog doesn't like clothes. You will hear people say "your dog is not an accessory" oh, "you think the dog likes that, thats why they have fur." Oh gosh the list goes on. As a matter of fact I can write a whole blog post on all the negative people say and I have read. 
This is what you have to remember? 1. Does your dog like the clothes? 2. Are they uncomfortable? It's important to observe them. Don't force them to wear anything they are not comfortable with. Also, a day outfit is not a nighttime outfit. Usually cotton tees pajamas are softer for them to sleep in. Just as we like soft pajamas so do they. Remember, dog clothes is not for every dog. They will tell you what they like or not. 

For me personally, I do not let prince go to bed at night without a shirt or something covering his chest. He gets cold very easily. One night, I didn't put anything on him and he woke up sneezing with a runny nose. I definitely did not want him to get sick again. That vet bill was not very pleasant. haha Basically, learn to know your dog and go from there.  

I hope you guys enjoyed this post. Please share with me your dog photos! I would love to see them. Follow us on Instagram @queenbeefashionblog. You will be seeing a lot more dog couture. 
​​​
En Español
1. COMO ES LA SITUACION CON VESTIR A PRINCIPE? 
Es muy divertido! Creo que prince piensa que es parte humano. jaja Cuando el tenia cinco meses le trataba de poner ropa porque siempre tenia frío y tenia escalofríos. No había ropa en su talla que le quedaba así que siempre lo traía en una cobija. Creo que en los meces que vinieron después se acostumbro a la ropa. Donde quiera que vamos los paran para preguntarnos de nuestro vestuario. A Travez de el eh conocido a gente increíble que realmente ama a sus perritos. Es otro mundo realmente. A mi siempre me gusta que todo combinen perfectamente. Así que como Principe siempre esta en mi bolsa, se me hace fácil combinar sus vestuarios con los míos. 
2. ES UN POCO RARO? 

Bueno, ay de todo. Siempre va a ver gente que se te queda viendo un poco raro. jaja simplemente sonríe y sigue con tu dia. Vas a conocer a mucha gente que te va a preguntar en donde conseguiste su vestuario. Así que todo dependo de la perspectiva de cada persona. yo obviamente creo que es adorable que combinen los vestuarios. 
3. PORQUE LO HACE LA GENTE? 
Siempre va a ver gente que tenga algo negativo que decir sobre ponerle ropa a los perritos. eh escuchado gente decir "no es un accesorio, no le pongan ropa." O "no necesita ropa por eso tiene cabello." Ay tatas cosas y frases que podría escribir un blog nadamos hablando de esto. 
Lo que tienen que recordar es? 1. Le gusta la ropa a tu perrito? 2. están cómodos con la ropa? Es important observarlos y ver si están cómodos con lo que traen. No les quieres dejar algo que no les guste. A nadie le gustaría que le hagan eso a uno mismo. También, recuerden que ay ropa para dormir y ropa para el dia. Típicamente la ropa de dormir es mas suave y comoda. No les dejen la ropa del día puesta toda la noche. 
Para mi personalmente, yo le pongo camisetas mas suaves a Prince para dormir. Una noche no le puse nada, y en la mañana amaneció estornudando y con gripe. No quisiera que se enferme otra vez, la cuenta del veterinario no estuvo buy agradable. jaja básicamente aprende a conocer tu perrito y decidí si es algo que le gusta. 

Espero que les agrado leer este blog. Déjenme un comentario con fotos de sus perritos me encantaría ver. :) espero que nos sigan en Instagram @queenbeefashionblog van a ver mucha ropa y modas para su perrito y ustedes. 
xx, 
Caryn 
​​​