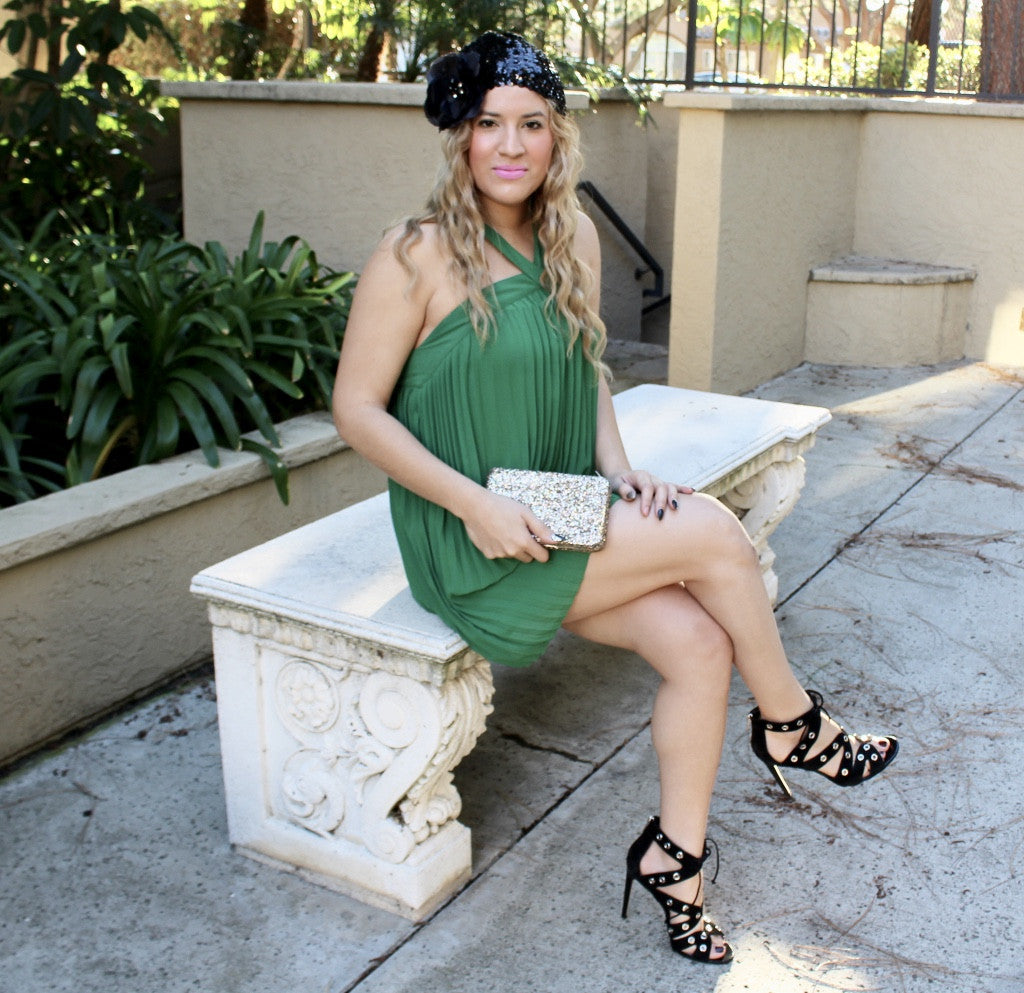 New Years Eve Outfits for 2017
Christmas has passed and now all the commotion is about that sequin outfit you're going to be rocking this New Years Eve. Have you asked yourself,  What's your New Years Eve color? I'm sharing my two favorites with you and essential pieces you might need to make your New Years Eve Outfit pop. 
En Español
Que Ahora que Navidad a pasado, lo único que estamos pensando es en el año nuevo! Quiero compartir con ustedes dos diferentes estilos para su vestuario el año nuevo. Ya se preguntaron cual es el color ideal para usar ese año nuevo? Sigan leyendo para enterarse. 
1. Green Everything. Heck Yes! 
Green is the color to wear this New Years Eve. By rocking that green sequin skirt and pairing it with some earrings the same color you can really synchronize your green. You either match the accessories with the lipstick you decide to wear or an item of your outfit with the earrings. Thats usually my rule when trying to match an evening outfit. Also, don't forget your clutch. You need enough room to carry your cell phone, lipstick, and some cash. If the event you are attending has a coat check in then a gray faux fur coat is just what you might need. What I love about this outfit is that you can find things from your closet and invest in the colored items or vice versa. You can find the items from the collage in numerical order below.  
2. Burgundy Madness
I can't decide if burgundy or green is my favorite haha But this look is for all my gals who don't like to wear skirt and or dresses. You can be comfortable and stylish at the same time. For this outfit we played with the color in the accessories. Basically wear neutral colors and add everything you can in burgundy tones. Silver sequin leggings with a strapless satin top and you're good to go. I like this outfit for a house party or if you're just going to be going to dine somewhere. 
3. Green Version From My Closet 
This outfit was inspired for New Years and just showing you guys a different way to use what you already have from your closet. I hope you guys have an amazing NEW YEARS EVE. <3 This will be the last post of 2016! Can't wait to see what this following year has for us. Make sure to follow on instagram @queenbeefashionblog for daily updates! 
En Español
Este vestuario fue inspirado por en año nuevo. Les quería demostrar una manera diferente de combinar los colores usando ropa de mi closet. Espero que les haga gustado los diferentes estilos y espero que tengan un Feliz Año Nuevo! Este va hacer mi ultimo post del 2016 pero recuerden de seguirme en instagram @queenbeefashionblog para fotos todos los días. besos! 
xx, 
Caryn