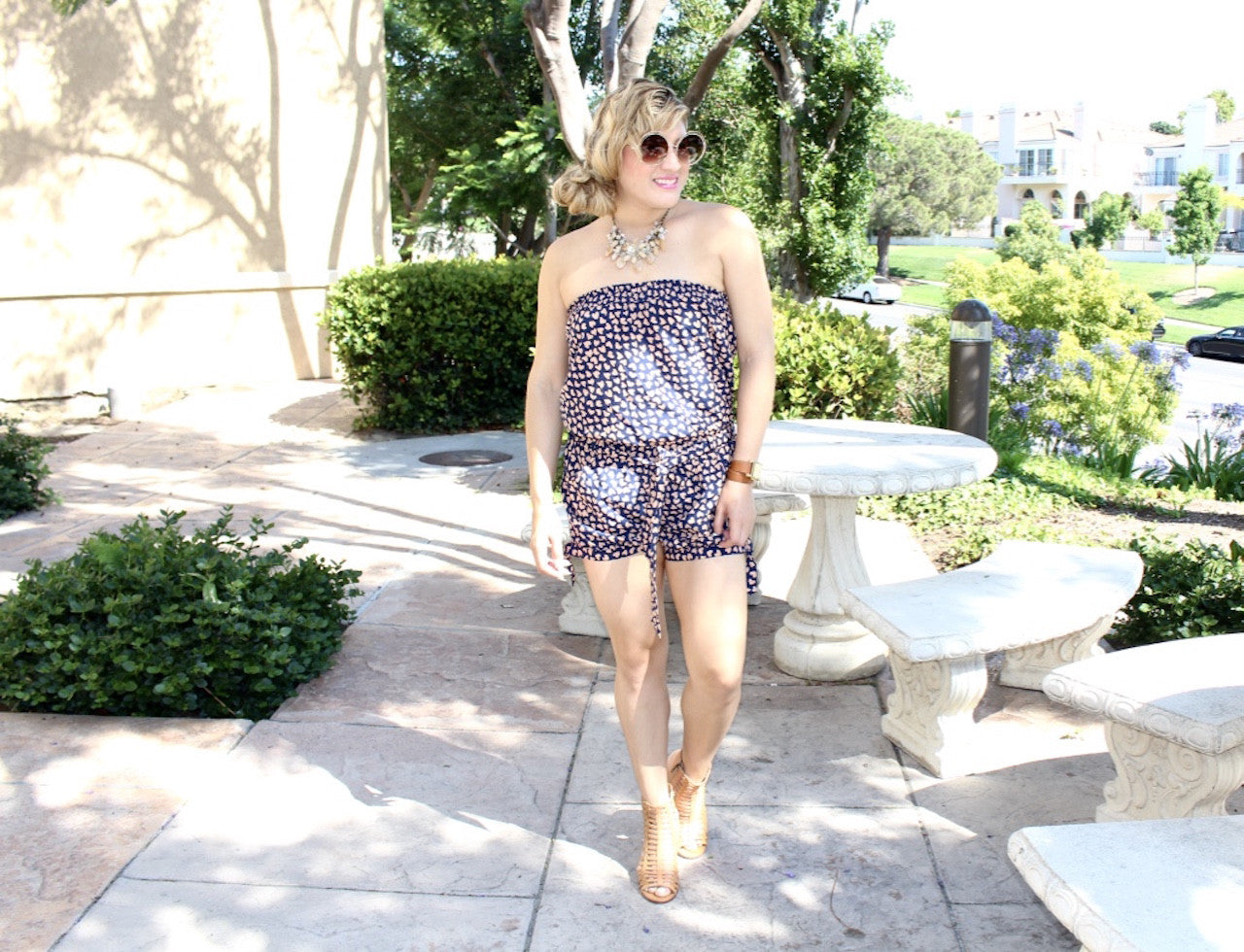 Prints & Styles For Summer
The funnest thing about fashion in the summer are the colors and the prints. You can never go wrong with a printed romper to help you through the summer. In the summer we have to be ready for anything. A romper is versatile & fun. Which type of print are you? 
1. Directional: The print above has a very even horizontal and vertical print. There is a similar style here. The one pictured was from forever 21 last year. I had it put away for too long. I like this style of print because it can easily be a day or night look. 
2. Floral: An all time favorite for summer. My favorite style Can be found here. The combination of colors is effortless. I would wear this to a casual luncheon. 
3. Dots: An all time classic. My favorite style can be found here. This is such an evening style with a hint of elegance and chicness. 
4. Animal: This is a fun one! My favorite thing about an animal print is that it is bold and stylish. Women generally wither love it or hate it. I have to say I had to warm up to this print. But once you try this pattern you will love it. This is on the top of my nightlife prints. 
Which one will you be rocking this summer? 
Thanks for reading loves! Please stay connected follow on Instagram and Twitter. 
xx,
Caryn 
Impresión De Tela Para El Verano
Lo mas divertido del verano es la impresión de Tela en los mamelucos. Se pueden usar para cualquier occasion. Cual impresión de la tela es tu favorita?
1. Direccional: El mameluco el las fotos impresiones horizontal y vertical. Aquí pueden ver un estilo parecido. El que ven el las fotos es del año pasado de la tienda forever 21. Me gusta este tipo de impresión porque se puede usar para un evento en el día o en la noche. 
2. Estampado floreado: Unos de los estilos mas usados y favoritos en el verano. Mi estilo Favorito es este. La combinación de colors son perfectos para la temporada. Este estilo lo usaría en el día para una reunion social. 
3. Lunares: Une estilo muy clásico y elegante. Une estilo muy bonito se puede encontrar aquí. Este estilo es perfecto para un atardecer elegante. 
4.  Impresíon de Leopardo: Unas de las impresiones mas divertidas. Tiene mucho estilo y es unas de las impresiones mas fuertes. Mi estilo Favorito se puede encontrar aquí. A las mujeres tipicamente les encanta este estilo ó no les gusta mucho. Este tipo de impresión es mi favorito para usar en la noche. 
Cual estilo se van a poner este verano? 
Gracias por leer! Por favor manténganse conectadas y aseguren de seguirme en todas las redes sociales. Instagram y Twitter. 
xx, 
Caryn